91st Academy Award Predictions: Original Screenplay & Adapted Screenplay (with Ryan Morris and friends)
Before the Academy Awards tears apart Film Twitter tonight, I've joined forces with some of the finest souls in this Oscar-obsessed world to put some of the major categories under the magnifying glass, exploring who will - and who should - win in some of the most hotly-contested categories.
I've taken in friend, sometimes foe
Ryan Morris
(formerly of Morris Movies) and together we're looking at the screenplays: Ryan's tackling Original Screenplay while I take on Adapted Screenplay.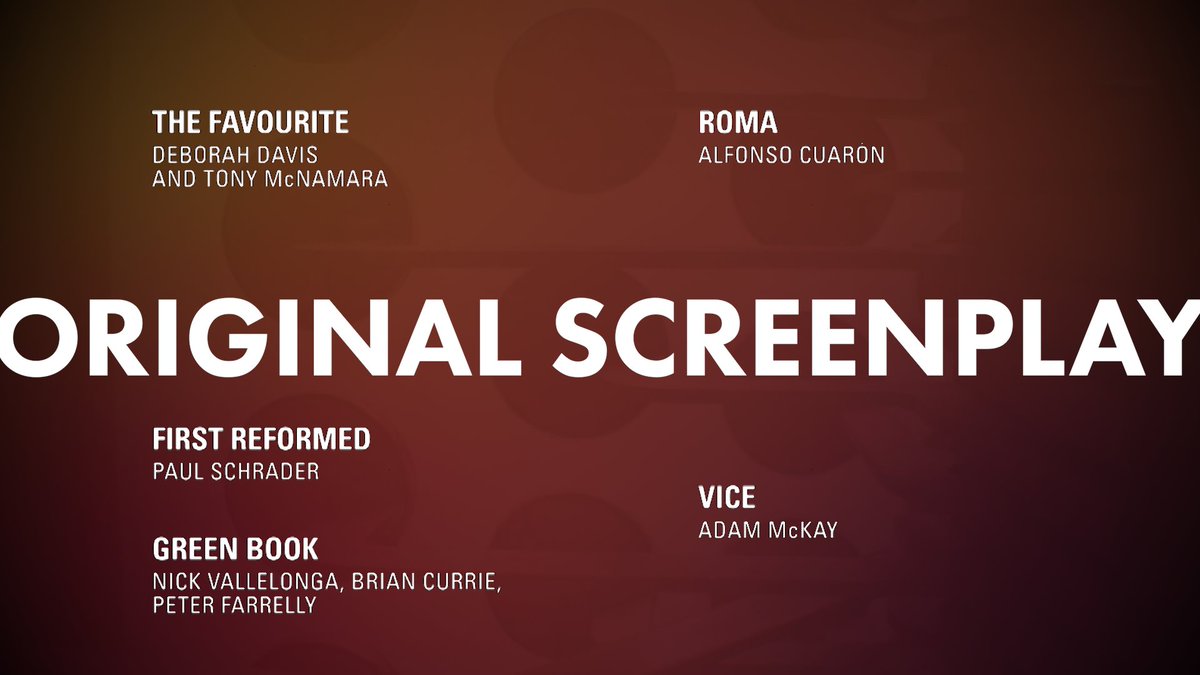 Much like essentially every other category taking place at the 91st Academy Awards, the 2019 Oscar for Original Screenplay isn't exactly straightforward affair. Early precursor guilds divided their love between multiple films, with offerings like The Favourite and First Reformed picking up trophies frequently, but also films like Eighth Grade, that missed the Oscar nomination, serving as well respected upsets. Green Book, too, has managed to bypass all the controversy surrounding it (and its director and writer and lead actor) and rack up a fair few nominations across the board, indicating that love for the now much maligned film is still strong. Alfonso Cuarón's Roma seems more poised to be taking awards for its craftsmanship as a piece of visual storytelling and not for its merits as a screenplay while, despite coming off the back of the director's previous film winning this statue a few years ago, Adam McKay's Vice seems like the longest shot in this category by now.

Perhaps First Reformed could pull off a shock win and walk home with the only trophy it was nominated for, or maybe Green Book will provide an upset (both figurative and literal, in this case) by stealing the statue at the final hurdle, but your money here is best placed on The Favourite. With a script as devilishly sharp-tongued as it is provocatively sexualised, twisting your standard period piece love triangle into something shockingly contemporary and yet firmly rooted in its setting, it's far from your average Oscar winner in all the right ways. Has the C-word ever shown up so many times - and in so many forms - in an Academy Award winning screenplay before? Well, if this year's Oscars race has proven one thing, it's that there's a first time for everything.

Is there anything missing from this year's crop, though? Any worthwhile screenplays that fell through the cracks and missed the nominations? Eighth Grade probably sits atop most of these queries, but it hasn't yet made its way this side of the Atlantic, so I can't comment there. I'd instead make a case for Boots Riley's debut screenplay for his electrifying, wildly ambitious Sorry to Bother You. Sure, it may need some polishing around the edges and Riley's message is far from subtle, but with Green Book's nomination alone the Academy have proven that a lack of subtlety isn't exactly a buzzkill for their screenplay-infused sugar rush. It's increasingly rare to find debut scripts as bold, shocking and downright crazy as Sorry to Bother You's. Perhaps the Academy, no matter how hard they try to make us believe otherwise, just still aren't quite ready.


What our friends had to say:
"My heart says The Favourite, my head says Green Book, my nightmares say Vice" - Nathan
"
It has to go to The Favourite, which is unsurprisingly, my favourite film of this awards season. If Rachel Weisz saying "vajuju" doesn't do it then I don't know what will." - Maddy
"
Okay let's get this out of the way, Vice's presence in this awards season just bothers me something fierce. It had some good intentions, but it just came across as too full of itself and was just downright infuriating to watch. Green Book likewise had good intentions, but its simplistic approach to the themes of its story are frustrating. Furthermore, a triumph seems unlikely given the backlash the film has received from the relatives of Dr Shirley. On the other hand, Alfonso Cuaron crafted something so personal and so moving with Roma. My personal preference would be a victory for The Favourite as it was just hysterical from start to finish, filled with some utterly brilliant lines of dialogue" - Martin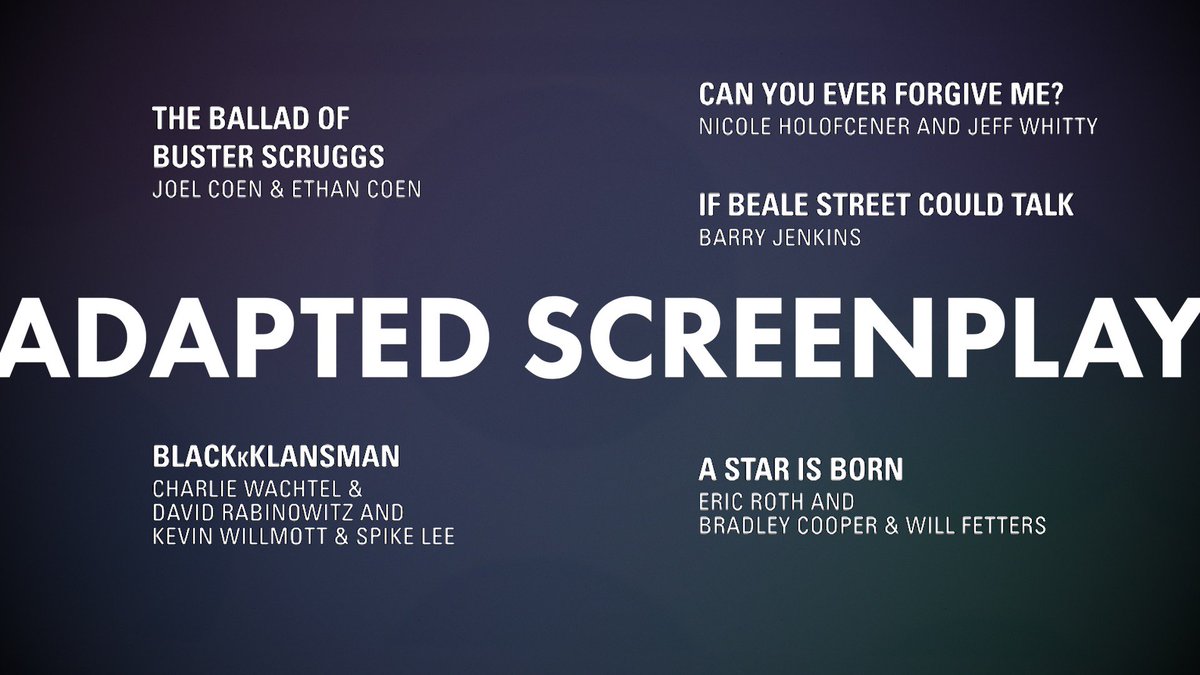 Nathan Osborne:
After a comparatively weaker year in 2017-18, where
Call Me By Your Name
rightfully swept at almost every guild and critic group, Best Adapted Screenplay has roared back to life this year and we have a fiercely-contested battle on our hands. Those translating the source material from book to film have flourished in delivering potent, thematically-resonant stories that will find new life in their new filmic bodies, preserving the bones of the original work while enriching it with a cinematic quality more suited to the screen. After fighting off stiff competition from the likes of
Black Panther, First Man, Leave No Trace
and
The Hate U Give
, our nominees are:
The Ballad of Buster Scruggs, BlacKkKlansman, Can You Ever Forgive Me? If Beale Street Could Talk
and
A Star Is Born
. Truth be told, three of them are in with a shot at success.
Joel and Ethan Coen's
The Ballad of Buster Scruggs
' nomination proved to be one of the most pleasant surprises of this entire award season. While unable to resist recognising the
Coen Brothers
, their Netflix anthology film stands the slimmest chance of parlaying its nod into gold on the night, without support in any other major category. Likewise,
Eric Roth
and
Bradley Cooper & Will Fette
rs'
A Star Is Born
is an outside bet: while consistently nominated, it has not won a single award and is unlikely to turn the tide at this late stage, with momentum at an all-time low.
That leaves us with
BlacKkKlansman, Beale Street
and
Can You Ever Forgive Me?
. This time a month ago, I'd have bet my chips on
Spike Lee's
BlacKkKlansman
: with six nominations, including a vital Best Picture nom, it is the most embraced of the three frontrunners. Having picked up eleven awards across the season, including the BAFTA most recently, it is the most awarded adapted screenplay of 2018; with
Spike
likely to lose in Best Director, for which he is also nominated, a win here would operate as a consolidated prize for his impressive work across the film. He is a beloved man in the industry and many would love him to receive the honour he deserves after frequently missing at these events previously.
With 10 wins,
If Beale Street Could Talk
is hot on
BlacKkKlansman's
heels. Including a win from the NBR,
Barry Jenkins
'
Moonlight
follow-up has glided under the radar this season but its screenplay, adapted from
James Baldwin's
novella, is frequently picking up plaudits and recognition. Again,
Jenkins
is a respected artist even this early into his career; sure, no Best Picture nomination is a major hurdle for it to overcome but this award season has frequently defied expectations and precedent.
When the Writers Guild of America handed
Can You Ever Forgive Me?
the award last week though, it signalled a resurgence. Recognition from the industry is one thing; recognition from peers is something else entirely. With voting conducted by the writer's branch, it bodes very well indeed. Alongside its Film Independent Spirit Award win last night too, it has picked up steam heading directly into tonight's ceremony which would be almost impossible to ignore - if
BlacKkKlansman
hadn't been such a consistent performer.
Nicole Holofcener
and
Jeff Whitty's
work, adapted from
Lee Israel's
memoirs, combines genuine pathos and acerbic humour brilliantly and would be my personal preference for the win; the film hasn't been so widely embraced though, earning two acting nominations outside of its screenplay nod, and that could hold it back.
All said, I think
BlacKkKlansman
will take this one. Had
Can You Ever Forgive Me's
victories started earlier - perhaps at the beginning of the final stage of voting - OR had it picked up a Best Picture nomination, I would be convinced that it had clinched the victory. However, that's a lot of ifs and buts and
Spike Lee
seems the safer bet: with greater name recognition, the film's strong performance and its strength going into Best Picture, it has the clearest path to a win.
WILL WIN: BlacKkKlansman
SHOULD WIN: Can You Ever Forgive Me?
(from THR)
What our friends had to say:
"If the directing Oscar is going to be out of his reach, then this is the one category that Spike Lee, and his team of co-writers have got to be victorious. BlacKkKlansman struck a fine balance between humour, but it did not shy away from the hard-hitting heavy subject matter, and got extremely fierce and angry when it wanted to, and justifiably so. The Coen brothers are Academy favourites but the Ballad of Buster Scruggs was a bit hit or miss with some of its stories. Barry Jenkins seems unlikely to repeat his triumph in this category for Moonlight. Can You Ever Forgive Me? may yet sneak an upset but this should be Spike Lee's long overdue moment" - Martin (Through The Silver Screen)
"
Surely this had to go to BlacKkKlansman. It's a tough line up, with If Beale Street Could Talk and Can You Ever Forgive Me? both being plausible wins that would make me happy; but BlacKkKlansman was such a hard hitting but screenplay that it's on another level" - Maddy (fivethreeninety)
Read the rest of the post in our series:
BEST ACTRESS
Maddy (@
madelexne
)
Post here
BEST SUPPORTING ACTRESS
Tom (@PlainSimpleTom)
Post here
BEST LEAD ACTOR, BEST SUPPORTING ACTOR
Martin (@
ThrSilverScreen
)
Post
here
BEST MUSIC (Song and Score)
Markus (
@TheMarckoguy
)
Post here