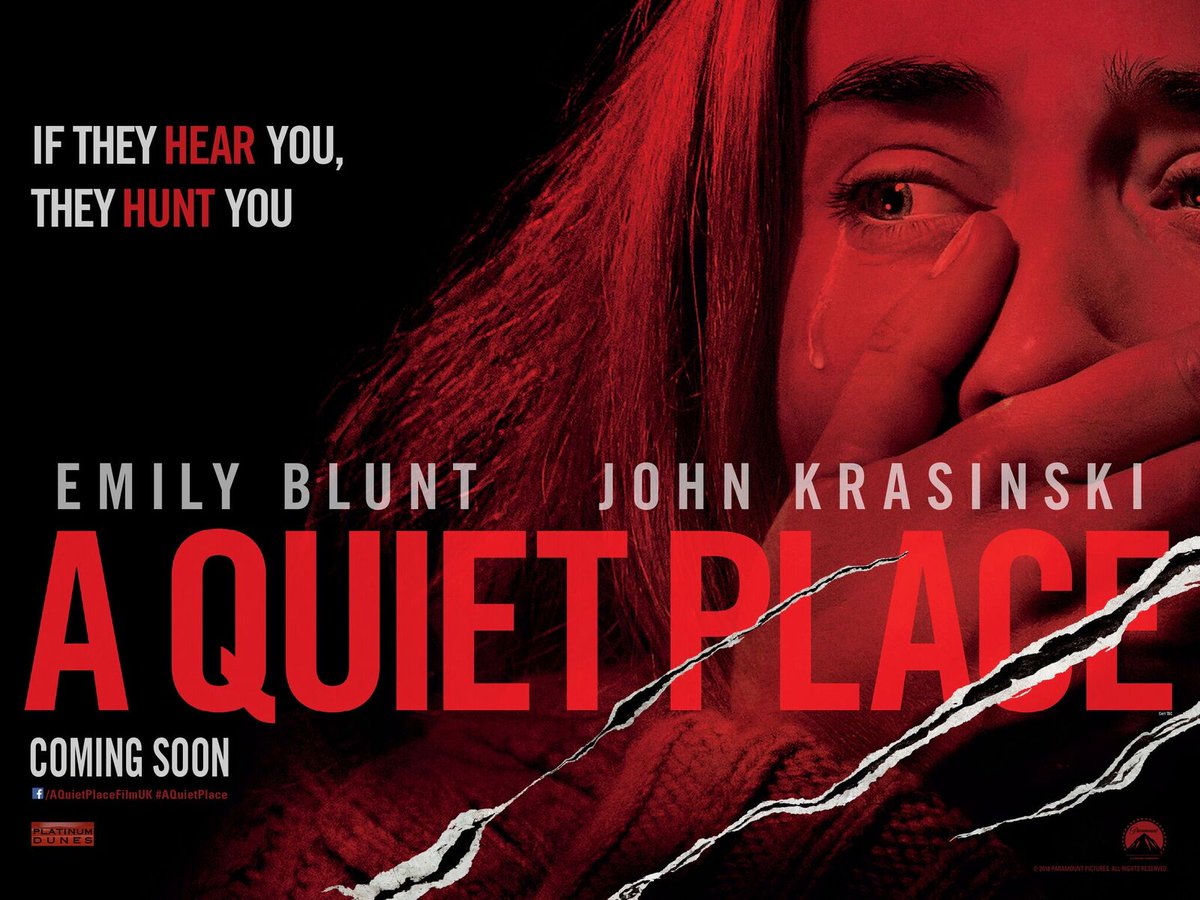 Silence is survival in John Krasinski's first horror venture, A Quiet Place, a genre its writer and director reveals he is not particularly well-versed in. That might be a cause for concern for some but having seen the final product, Krasinski's picture is benefitted by a uniquely fresh approach, delivering a genre film for the ages -- a film that will go down as one of the century's greatest horror releases.
2020. Earth has become overrun by sightless extraterrestrial creatures with extremely sensitive hearing who react by viciously killing, turning humans into their prey. Having to remain as silent as possible or face a brutal death, the Abbott family appear to be some of the last remaining survivors in the area, communicating solely through sign language. With Evelyn (Emily Blunt) preparing to give birth to another child, her husband Lee (Krasinski) and their children Regan (Millicent Simmons) and Marcus (Noah Jupe) prepare to welcome the new addition into a world of silence.
A Quiet Place is a stroke of genius not only for the horror genre but for filmmaking in general. In only 95 minutes, Krasinski crafts a genuine endurance test, in the most impressive way possible. You find yourself reduced to silence, in somewhat of a trance, holding your breath as you witness these characters undergo a traumatic experience you feel apart of. Psychologically exhausting, it's a nerve-shattering experience, so technically and emotionally well-rendered, a lean, mean, taut and shining example as to what horror can do.
Krasinski's
use of atmosphere, silence and sound crafts one of the most immersive films in recent cinematic history. Effortlessly enhanced by
Marco Beltrami's
excellent score, the soundscape takes the idea of being able to hear a pin drop - or a noisy patron rudely munching away on their popcorn - to a completely new realm, resulting in an electrifying and absorbing piece. Rivalling Darren Aronfosky's
mother!
for the single greatest use of sound in a genre film,
A Quiet Place
makes you so self-aware and conscious that it only amplifies your spiking heart beat further.
It helps that Krasinski's direction is exciting too; tense and suspenseful, the film is populated with some really strong set pieces that all feel organic and well-connected. With the help of masterful lighting and, of course, the genius sound, A Quiet Place profits from a director who can bring something new to the film, rather than a director attempting to recreate or recapture something seen among the greats of the genre. Sure, the execution of the script is a little formulaic but the direction isn't and we are presented with a visceral vision to marvel at and become involved with. Writing alongside Bryan Woods and Scott Beck, Krasinski's script for A Quiet Place is incredibly well-paced with next to no flab and while a little foreseeable in places, manages to feel thrilling, dark and smart for the entirety of its run.
Reliant on a strong cast to engage you from open to close, real life couple Krasinski and Blunt make an outstanding team here, selling their fear and vulnerability alongside their vow of protection to shield their children from harm. Blunt is as fantastically reliable as ever, conveying a real range of emotion and reminding you of the real injustice it is that she still has no Oscar trophy sitting on her mantlepiece yet. In one bathroom sequence in particular, the intensity of her performance is extraordinary, powerful and heart-racing. It's early, but I wouldn't deny this one an Oscar nomination next year. Krasinski on acting duty is terrific too; his every action has a gravity and conviction that is simply undeniable.
Simmonds
, who - like her character - is deaf, is a revelation here. Nuanced and slick, there's a great deal of weight on her performance and she handles it brilliantly; from the emotional to the defiant,
Simmonds
is a talented performer who gives as good as she gets, especially opposite two powerhouses like
Krasinski
and
Blunt
. And fresh from his stand-out performances in
Wonder
and
Suburbicon
,
Noah Jupe
once again illustrates his skill as the youngest member of the Abbott family, with a turn packed with confidence beyond his years.
A Quiet Place
is exceptional filmmaking. Smart, dark, emotional and just a little terrifying, with this astonishing technical accomplishment the filmmakers have crafted something more than a film -- they have crafted an immense cinematic experience. To imbue such self-awareness with an audience aware of their own noise, sound, even breathing is a marvellous feat and the film truly benefits from being played loud and in complete darkness -- it sets your heart racing for sure!
Emily Blunt
is phenomenal with the rest of the cast impressive too;
Beltrami
crafts an intense score that helps heighten the tension; and
John Krasinski
succeeds on a number of fronts. You can colour me surprised if any horror film is as brilliant as
A Quiet Place
is for the considerable future -- and it's great to see a Paramount picture that hasn't bombed! Well done
Krasinski
and team.
Summary: A Quiet Place is truly outstanding filmmaking. From the impeccable soundscape and soundtrack from Marco Beltrami to the brilliant performances across the board, A Quiet Place worms itself under your skin and refuses to let you go.