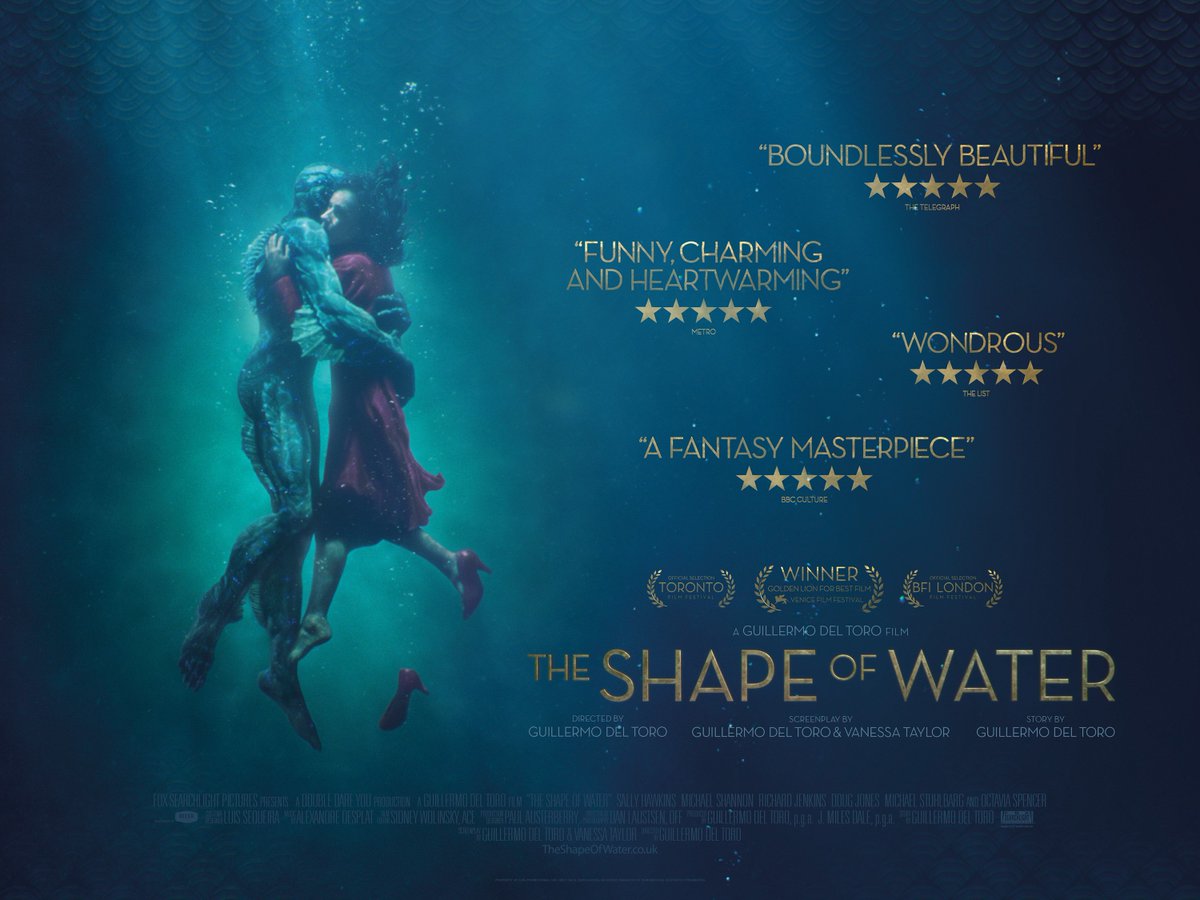 This is by no means a hyperbole:
The Shape of Water
is the very definition of cinema.
Guillermo Del Toro's
fantasy-romance is nothing short of a triumph, further declaration of the immense talent of one of cinema's most inventive minds.
The Shape of Water
has scored a staggering thirteen nominations at the forthcoming Academy Awards - one of the highest totals of all-time, just behind
La La Land's
record-tying fourteen nods last year - and so it is safe to say that Hollywood has fallen head over heels in love with
Del Toro's
creation; but will it appeal to the mainstream and those outside the movie bubble?
Set in Baltimore in 1962,
The Shape of Water
follows a mute custodian, named Elisa Esposito (
Sally Hawkins
), who befriends a captured humanoid-amphibian creature being housed in a high-security government laboratory. Learning to communicate with the creature via sign language, Elisa realises that they share more in common than she may have first realised. Alongside an exquisite
Hawkins, Michael Shannon, Richard Jenkins, Octavia Spencer
and
Michael Stuhlbarg
star.
The Shape of Water
is a love-letter to cinema, a major theatrical accomplishment both emotionally and intellectually deep.
Del Toro's
gorgeous script explores such ravishing themes through an unorthodox narrative that infuses fantastical elements so wonderfully into its story; themes of love, hope, redemption and belonging swirl around the picture, delivered in a very ethereal, almost otherworldly manner - but almost all of it, opening and closing shot and some of the more inter-species elements aside, are painfully human, recognisable and relatable.
Del Toro
is a genuine master of his craft and in his screenplay, oozing with creativity and imagination, he offers a voice to the voiceless, both figuratively and literally.
Del Toro's
powerful touch continues with the superb film's direction, showcasing some of his very finest work to date. From the fluid camerawork to the extraordinary framing devices utilised, not enough can be said about how striking and immersive this film's world is, all thanks to
Del Toro's
confident vision, crafted to sheer perfection. This film could so very easily become twee and tasteless, yet
Del Toro
in all his mighty talent, has conjured a visionary masterpiece - yes, a masterpiece - that is both elegantly and free. It's stunning, bold and innovative, three of my favourite things to see on a cinema screen; the opening and closing scenes of this film genuinely stand as two of my favourite sequences of all-time and they encompass everything I love about
The Shape of Water
-- and film in general.
Del Toro's
unique vision and flawless direction understandably thrives because of the immense production design and values. Each and every set piece is bursting with detailed flourishes, from precise colour grading to enchanting lighting. The art team excel here, submerging you in this extraordinarily well-crafted world and atmosphere, dark yet beautiful. The costume design is imposing and the special effects are impressive, bringing to life the era and 'The Asset' particularly well. It's so very easy to see where all those nominations were racked up; this is a film that thrives in every regard and element, technically and emotionally.
The Shape of Water
could live or die by the central performance though. It not only survives at the hands of
Sally Hawkins
' delicate performance; it absolutely thrives. Spell-binding, nuanced and captivating,
Hawkins
is an utter revelation, delivering her finest performance of her career to date - and one of the decade's too. Largely dialogue-free,
Hawkins
conveys an extraordinary amount through her body language, facial expressions and signing alone, through a profoundly moving and powerful performance that will be remembered for years to come. Best Actress trophy or not,
Hawkins
has proven herself to be a tremendously-skilled individual with an intricate, subtle and exquisite performance for the ages.
Hawkins
isn't alone in impressing, with
The Shape of Water's
supporting cast padded out with truly exceptional talent. Many of the characters represent society's voiceless;
Jenkins
' Giles, a flamboyant gay man, is so wonderful played, providing a performance both poignant and surprisingly funny; Zelda, a black woman, is packed with
Spencer's
typical charm and zest which is so effortlessly injected into the role; while
Stuhlbarg's
Robert Hoffstetler shoulders the moral dilemma of the piece from both a scientific and human viewpoint. It's another mighty fine performance from
Stuhlbarg
this award season, following turns in
Call Me By Your Name
and
The Post
.
Michael Shannon's
villain may suffer a little from some broad, archetypical brushstrokes, but as reliantly as
ever
,
Shannon
ensures he leaps the character leaps off the page. It is a menacing and threatening performance, proving thematically that the real dangers of our world stem from mankind, rather than the supposed 'monster' of the story.
Alexandre Desplat's
score is masterful; an extraordinary accomplishment as enthralling as the film itself. Able to immerse you back into this impeccably-detailed film,
Desplat's
work is like nothing you will have heard before. Enhancing every single emotion experienced throughout
The Shape of Water
,
Desplat's
well-orchestrated collection so very wonderfully suits the vision of the film, as poignant and rousing on its own as it is working in conjunction with the film. It's truly phenomenal piece of art, an outstanding example of the importance of a soundtrack in strengthening a film's vision, narrative and thematic depth.
The Shape of Water
is one of the most cinematically lush, moving and poignant experiences to ever grace our screens. This is a triumph. This is art. This is cinema at its very, very best. With such an assured vision, it is as timeless as it is timely yet perfect escapism at the same time.
Del Toro
yet again establishes himself as Hollywood's most visionary director with a feature-length that could collapse in on itself at any time; with
Del Toro
at the helm and magnificent work from
Hawkins and
the supporting cast,
Alexandre Desplat's
score and production design team, it could not be further from reality. It's utterly glorious filmmaking, an enduring cinematic accomplishment that will be remembered for years to come.
Summary
:
The Shape of Water
is a wondrous, utterly immersive cinematic experience with a bold and creative vision helmed so magnificently by writer-director
Guillermo Del Toro,
and starring
Sally Hawkins
in a wordless but an endlessly emotional performance for the ages.