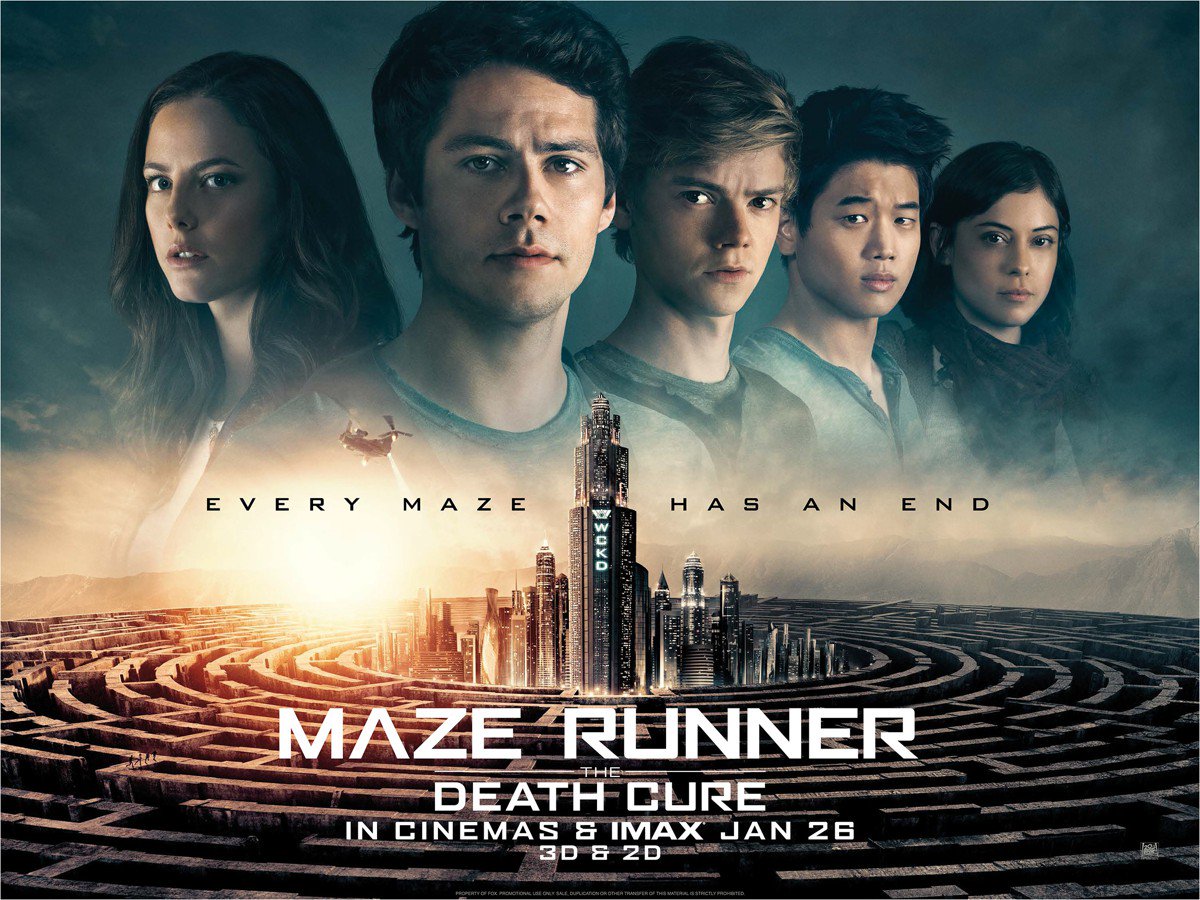 The Death Cure
not only represents the long-awaited finale of
The Maze Runner
franchise, but operates almost as an unofficial swansong for the Young Adult sub-genre. Gone are the days where every film in
The Hunger Games
series can open with $100 million domestically with
The Maze Runner
almost the last of its ilk, a dying sub-genre spluttering to life for one final hurrah. Is this a strictly for-the-fans event, or will the spectacle be enough to win over those entering the maze for the first time?
After the events of the Scorch Trials, Thomas (Dylan O'Brien), Newt (Thomas Brodie-Sangster) and members of The Right Arm resistance continue to flee and evade WCKD, who are still in search of a means to an end for the Flare virus, capturing those immune to test and trial a cure at the expense of those immune. After her betrayal, Teresa (Kaya Scodelario) works with WCKD in their search and holds information crucial to Thomas and co, including the whereabouts of fellow-glader Mhino (Ki Hong Lee) - but has she defected too far over to offer them any help? With time running out and lives in their own rank at risk, the maze is coming to an end and not everyone will make it out alive.
Maze Runner: The Death Cure is, in a word, relentless. It's a frenzied, stuffy finale far too bloated for its own good; at 142 minutes you can see how it could become scattershot and convoluted. Adapting James Dashner's work, T.S. Nowlin's screenplay takes itself too seriously to be as entertaining and frothy as the previous two instalments, never completely satisfying but remaining serviceable enough to honour it your time if you've already invested yourself in the series. If you're not already a fan though, Death Cure won't change your mind.
Be it the source material or the adaptation itself, Death Cure has a terrible habit of writing its characters into corners only to have an increasing preposterous '...and suddenly!' save the day, time after time again, twist after twist. In fact, the whole opening sequence is defined by this very formula and it grows tiring after a while. The continuously-employed structure dilutes the emotional stakes and by the time the gut-punches arrives in the latter quarter, they are undersold by too many false starts beforehand. While it breaks away from the structure intermittently, providing some fruitful surprises and pleasant twists now and then, the bombastic becomes too much and takes away some of the enjoyment in the finale for me. In all honesty, it's a narrative mess.
Furthermore, it could really, really do with being brought under the two hour mark. It's both saggy and cluttered, with more time in the editing room needed to tighten up certain plot elements and loosen others to give them space to breathe; I can think of a handful of sequences that provide no real substance or additional context to the overall story, that could easily be shaved off entirely to the benefit of the overall feature-length. It is because of these unnecessary, emphasised plot strands and sequences that The Death Cure struggles to coalesce into as satisfying an experience as hoped, which is a pity for a series that deserved to go out with a bang.
Wes Ball
is a talented director and he does an impressive job at making a rumoured $62 million production budget feel two times, if not three times, the scale and the amount here. It's visually robust; the action sequences are solidly-executed with excitement and confidence, the special effects are largely strong and the set pieces are well-thoughtout. Again, it can all be a bit much now and then and almost disorientating at times, but
Ball
is skilled enough to ensure that everything remains on track, despite a convoluted story pulling it down. Everything is nicely framed too and there's some sturdy work from cinematographer
Gyula Pados
.
John Paesano's
score is used well to enhance the intensity and emotion too, particularly well-incorporated during two climatic scenes between friends in the final third.
Well-performed across the board, the ensemble keep the energy levels high as we propel towards the conclusion. Dylan O'Brien is a very competent leading man and his sturdy performance as Thomas will hopefully birth even greater opportunities moving forwards; it's particularly impressive that he returned to the film to conclude the franchise after a severe on-set accident early-on into filming, and he doesn't look the least bit shaken by it. He leads from the front with confidence and conviction and while he occasionally gets lost in the on-screen chaos, he comes out the other end well enough. Both he and Brodie-Sangster (another talent who will hopefully go on to even bigger and better things) prove that they can handle the demands of bold, energetic set pieces and tenderness of the more emotional moments peppered throughout, culminating in the second half of the picture.

Kaya Scodelario really dials up her performance here too, a fine balancing act between traitor and ally is found within the morally-torn Teresa that Scodelario sells efficiently. Aidan Gillen's Janson is not the well-constructed villain you would hope but it's not through lack of trying; Gillen is threatening and menacing, as poorly-sketched as his character is. Patricia Clarkson's Ava Paige disappointingly fizzles out but Clarkson puts her right foot froward and give it her best effort, despite the weak material afforded to her. Hong Lee is effective in his role and fulfils the needs of his character arc efficiently.
Death Cure's
relentlessness did remove some of the enjoyment from this final instalment for me, with the continual onslaught of chaos feeling particularly overwhelming and suffocating at times. Still, if you've made it this far and because it's not trying to change hearts or minds,
The Death Cure
is just about serviceable and satisfying enough to close this solid series out - just not on the show-stopping bang you may have hoped. We'll see what, if anything, will take
The Maze Runner's
space in due time but here's what I know for now:
The Maze Runner
is one of the better examples of its genre and while it ends on a comparatively weak note, the whole journey has been rather entertaining throughout. Once more unto the maze, dear friends.
Summary
: Despite its over-reliance on pure chaos and relentless, all-too-convinent plot tricks, Maze Runner: The Death Cure is a satisfying-enough franchise finale, performed and directed well enough to overcome the closer's shortcomings and stuffiness.