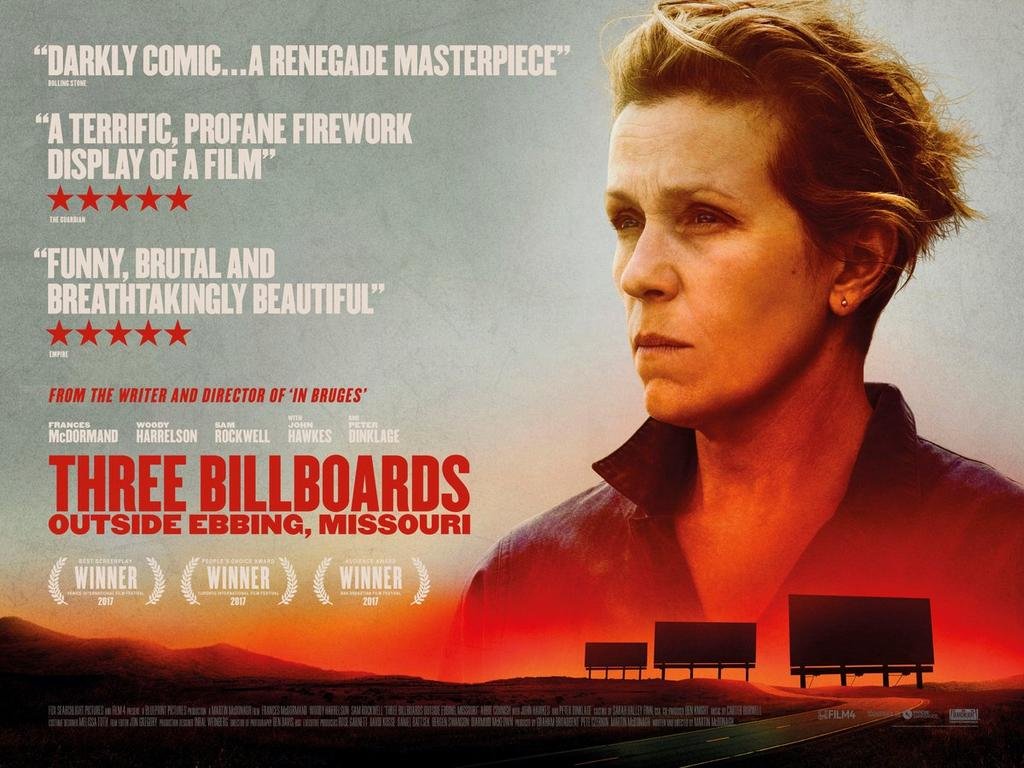 Fresh from its Golden Globes' success, including a Best Picture win, and its BAFTA nomination haul in tact, Three Billboards Outside Ebbing, Missouri arrives in the UK to a great deal of hype - and a little controversy. Martin McDonagh's black-comedy crime film looks set to prosper all award season long but is the growing resentment likely to chase the film out of town?
Three Billboards Outside Ebbing, Missouri - known henceforth as Three Billboards to save web space - explores the grief and torment of Mildred Hayes, a divorced mother whose teenage daughter, Angela, was violently raped and murdered seven months prior. With no arrests made and bitterness over the stalled investigation, Mildred rents three abandoned billboards near her home; the content of those billboards sends shockwaves and bitterness throughout a hostile community. Three Billboards not only deals with the grief-stricken, torn-apart family but the social and political problems and prejudice seemingly embedded in America today.
Make no mistake, Three Billboards is a dark film. You heart falls to the pit of your stomach; you gasp like air is running out; and emotions hit you like a tonne of bricks, all at once and frequently. That intense emotional reaction is created by McDonagh's successful script, which navigates some troubling themes in a testing American landscape. Both with and without nuance, the film manages to be bold and brash, yet quiet and reflective, particularly in its ending which features one of the most pleasing open-endings you have seen in quite some time. When it wants to shock you, it does; when it strives to make you laugh, it's darkly effective. Through his script, McDonagh's serves raw, plentiful emotion - all of which is anchored sensationally by Frances McDormand's outstanding performance.
McDormand is an unstoppable, unshakeable force. As Mildred - an intensely well-realised and detail character - she channels so much anger, vengeance and rage into her performance that you feel visibly shaken with each and every second she is on our screens. As commanding and assertive as McDormand herself, Mildred's pain, stubbornness and ferociousness can be seen as a facade, used by her to disguise just how devastated she is over the loss of her daughter. In her vow to solve that murder, she will light as many Molotov cocktails as it takes and you truly believe that her entire life is now dedicated to searching for a freedom - for both her and her daughter. Ever so smartly, McDormand allows Mildred's vulnerability to steadily seep through, proving that her fragility exists deep down without ever undermining her rage or agency.
We ache for her and sympathise deeply, even when her flaws become transparent. We are morally conflicted by her actions and while we understand her motivations, we cannot always support them: it is another reason why the ending is so fantastic, because the screenplay doesn't prescribe our reaction or a dead-set conclusion, leaving you to finish off the story. McDormand explodes on screen and scooping up gold in the coming weeks is something I can easily get behind.
While this is indisputably McDormand and McDonagh's film, there are a number of supporting performance that elevate and solidify the entire piece even further. Sam Rockwell is afforded a major character arc and while that development is a major source of the discomfort experienced by some audience members, Rockwell is game and sinks his teeth into the challenge. It is certainly compelling to witness and Rockwell's well-balanced, morally-dubious turn has earned him some suitably glowing acclaim. His angry and uncompromising performance is very possibly a career-best, no matter how you read or accept the characters' journey to redemption.
Similarly, Woody Harrelson makes the most out of a more limited appearance, with his characteristically self-deprecating charisma shining through as Chief Willouhgby. Harrelson sells sincerity with every sentence and when the film arrives at its most shocking turn, his devastating but wickedly devilish monologue is fantastically delivered, becoming one of the very greatest highlights in a picture packed to the rafters with terrific moments. Powerful and surprisingly tender, Harrelson offers a moment of restbite and hint at happiness in these moment, only to rip away the plaster and let the consequences bleed out. It is - and he is - brutal and funny and bold and brave and rather beautiful indeed; it represents the very best of what this film has to offer, and a moment where the tonal balance is mastered.
Lucas Hedges is fantastic too and while perhaps overshadowed and underserved compared to his more established co-stars, he continues to demonstrate just how talented an individual he is after his emotionally-shattering, Oscar-nominated performance in Manchester By The Sea last year.
McDonagh's direction has garnered praise in and of itself and it is a visually robust feature. Furthermore, at 115 minutes, it is tight enough to remain streamlined and sharp throughout and the ideas and themes are fleshed out appropriately without dwelling for too long. The biggest problem arise though through the tonal inconsistencies that present themselves: it can be incredibly jarring at times, making the jumps between emotions rather disorientating at times. While McDonagh keeps it on track well enough, and masters each element well individually, I'm not entirely convinced it comes together in the most satisfying or pleasing way.
Some of the side-stores have a habit or petering out with little in the way of resolution, with unfinished business hanging over Mildred and her billboards that feels needless. Still, Three Billboards is a fine achievement, particularly for a man still relatively early on into his career, with just four feature-lengths under his belt.
Carter Burwell's score enhances the emotion tremendously well, while Ben Davis' cinematography captures some lovely imagery. The bizarre introduction of a deer paves the way for some dodgy special effects in a scene that could have been entirely removed and still make sense, but at this stage, I'm just nitpicking.
Three Billboards is a darkly cynical, superb film and while some of its politics will continue to cause a stir, it doesn't take away from what is a well-made, exceptionally-performed and tremendously well-written feature-length as timely as it is bold. McDormand's stone-faced, acid-tounged Mildred is a superbly-written character, tortured and determined, and it is so excellently sold by the bold, gutsy performer and a screenplay that gives her journey the conviction to make it so utterly captivating.
Three Billboards may just sweep an award season without no clear front-runner, and while there are film I will cheer for more loudly - Call Me By Your Name and Dunkirk to name just two - I wouldn't be too disappointed should Three Billboards collect some gold in the coming months. Like Mildred (both figuratively and literally), Three Billboards is a fire-cracking, barn-burner of a film.
Summary: Three Billboards Outside Ebbing, Missouri takes risks and largely works thanks to McDonagh's sharp direction and timely script - a rumination on problems and prejudice embedded in (American) society - which operates alongside Frances McDormand's outstanding, explosive lead performance and skilled supporting turns from Woody Harrelson and Sam Rockwell.