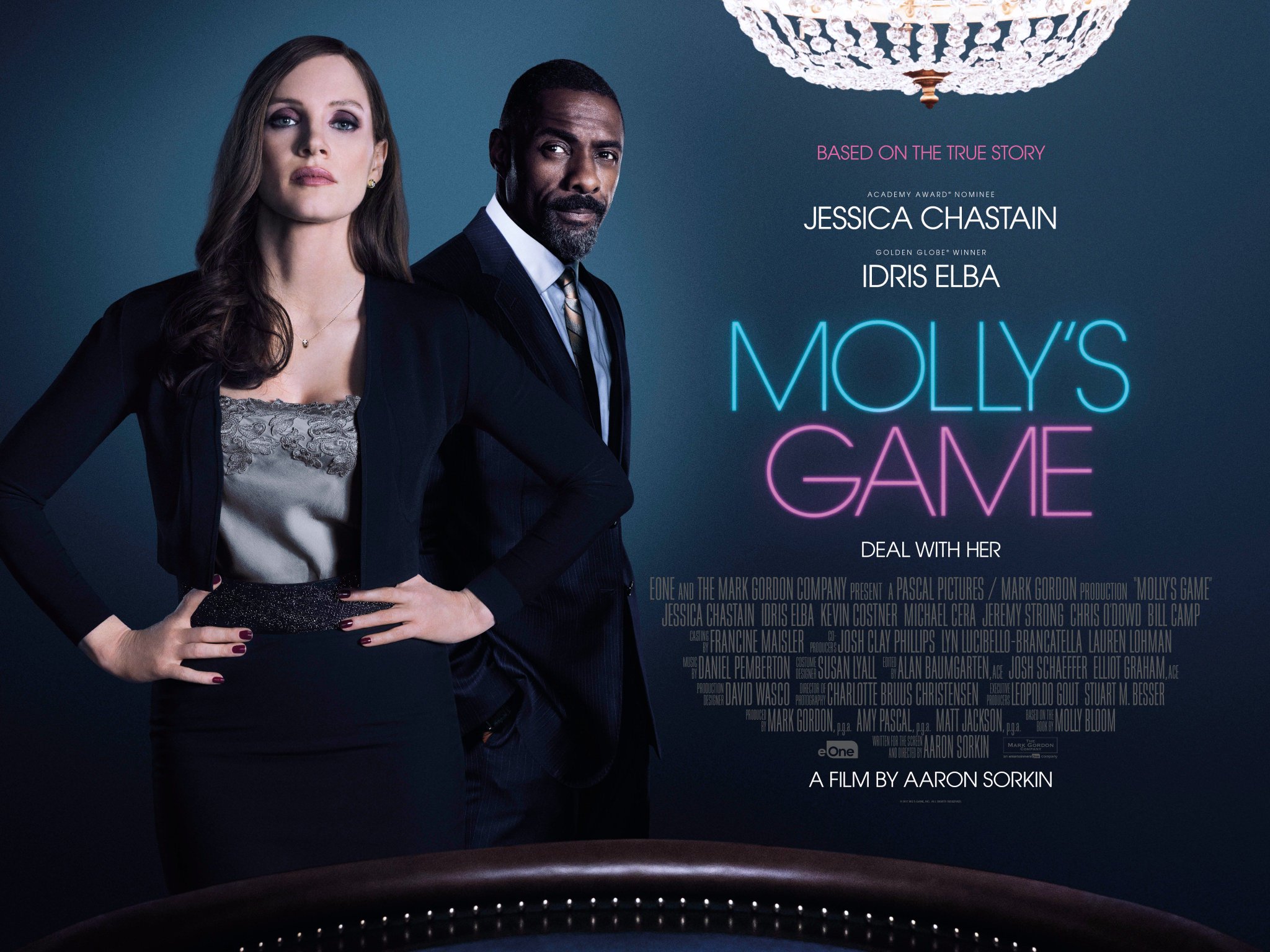 It feels totally appropriate that Molly's Game is released on New Year's Day in the UK; after midnight fireworks, they continue in the verbal form here - as is now characteristic from an Aaron Sorkin screenplay - who makes his directorial debut with this sparkling, effervescent winning hand.
After a skiing accidental rules her out of competing professionally, Molly Bloom (Jessica Chastain) takes on a job in Los Angeles that leads her into managing and eventually running an underground, high-stakes, celebrity-populated poker game. Unaware of her association with mobsters and mafia members, her dealings eventually catch-up with her and she is arrested by the FBI; with help from her lawyer (Idris Elba), Molly must face federal charges and work hard to absolve her name.
Molly Bloom is an utterly fascinating individual and her story is as shocking as it is compulsive. Sorkin goes a mile-a-minute on both the screenplay and directing front, delivering an energetic and razor-sharp thrill ride that is relentlessly entertaining, if overlong. His screenplay, adapted from Bloom's autobiography subtitled 'From Hollywood's Elite to Wall Street's Billionaire Boys Club, My High-Stakes Adventure in the World of Underground Poker', has a great admiration for the titular businesswoman, telling her story at a lightning-fast pace and in juicy detail; he has an awful lot to power through and as such, Molly's Game is continually engaging. At 140 minutes, it could do with a trim but it rarely meanders and remains tantalising throughout.

Sorkin, on the whole, makes the transition to director rather well indeed, crafting a sharp and piercing feature-length that is constantly punchy, even when the final act sags. As a director, he utilises many filmmaking tricks to deliver the overwhelming bundle of information, including poker terminology and practises with clear precision. Those unfamiliar with the world of poker (myself included) may not be able to fully appreciate the intricacies of the narrative as wholly as someone with an in-built understanding - but Sorkin clears up a number of our questions and ensures a limited knowledge goes a long way, completing most of the heavy lifting through graphics and self-aware voiceovers flourished with tightly-crafted dialogue. Perhaps his individual directorial style and flair has yet to be discovered visually, but that will come with experience - and I'm eager to see it (and him) develop and thrive.


Jessica Chastain always rises to the occasion, and her performance as Ms. Bloom is no different, as reliably consistent as ever; this is one of her strongest roles to date in fact. Her proclivity for bold, dynamic and layered female characters is palpable and Molly is yet another textured role for Chastain to sink her teeth into. She recites Sorkin's dialogue masterfully and effortlessly, keeping up the pace and easily commanding each and every frame. You cannot take your eyes off her; her sensual confidence, her passionate but respectful hunger for success and subsequent breakdown is captured fantastically by Chastain, exceptionally intense and well-rendered. She's both in complete control and dominated by these men as her intense world begins to take its toil; Chastain examines that difficult clash wonderfully and it (almost accidentally) delves into some poignant, timely themes. Idris Elba is a decent addition to the cast but allows Chastain and Sorkin's dialogue to shine front and centre. Even Kevin Costner's misguided inclusion, and needless ice-rink situation at the end, is well-performed.
While
Chastain
and
Sorkin
are
Molly's Game's
winning combination, a number of individuals help enhance the world:
Daniel Pemberton's
score enhances the tonal suave and provides greater insight into Molly as a character;
Charlotte Bruus Christensen's
cinematography enhances the glamour and later, the danger, of Molly's world considerably; and the tertiary players - including
Michael Cera, Jeremy Strong
and
Chris O'Dowd
- all support the drama as amalgamations of the real-life celebrities and high-powered individuals who attended Molly's evenings (including
Tobey Maguire
,
Leonardo Dicaprio
and
Ben Affleck
, although the film is purposely restrictive on the name front).
In exploring the fine line between success and failure, and interweaving the two timelines as effectively as it does,
Aaron Sorkin's
directorial debut is an absolutely terrific one. It's tantalising, energetic and compulsive, entertaining even when it becomes overlong and occasionally heavy-handed. Thanks to
Sorkin's
smart dialogue and confidence as a first-time director, and
Chastain's
excellent, Oscar-worthy recital and discourse acrobatics,
Molly's Game
is a whip-smart and exciting picture, as compulsive and addicting as the game that very nearly tore Molly Bloom down.
★
★
★
★
★
★
★
★☆
☆
Summary
: Molly's Game has a winning hand with writer-director Aaron Sorkin and the magnificent Jessica Chastain on side, resulting in a whip-smart, energetic and compulsive slice of biopic entertainment.