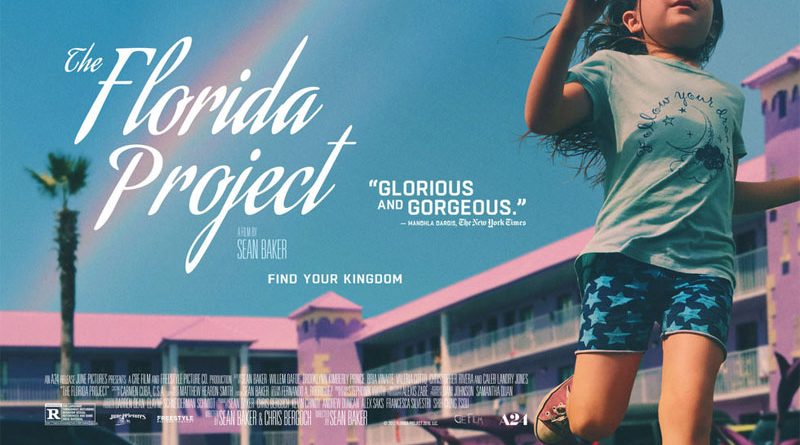 The Florida Project is about life. It doesn't complicate itself with unnecessary plot deviations and avoids throwing itself through hoops to beef up the structure - it is simply about being. Told through the eyes of a child living in poverty - growing up in the shadows of, but so far away from, the Happiest Place on Earth - the film explores her relationship with her single-mother and the world around with a bittersweet intimacy. The Florida Project may very well be one to watch this forthcoming award season - and the terrific little gem deserves to shine.
Moonee (Brooklynn Prince) causes mischief around The Magic Castle, the extended-stay motel she resides at with Halley (Bria Vinaite), her mother, and other low-income families in America. Despite growing up in the shadows of Disneyland, her life is a distance away from the euphoria and privilege typically associated with it. Clear victims of the 2008 recession and housing crisis that followed, The Florida Project explores housing insecurity, negligence and poverty of America's lower-class citizens in in Sean Baker's latest feature-length.
Films like The Florida Project are in danger of exploiting the characters and situation they centre around. It is required to walk a very fine line and the success rate is very hit and miss, reliant on whether the film is helmed by a director with the skill to balance it appropriately. Thankfully, Sean Baker is a perfect fit and excels by imparting his vision in an authentic and truthful way. Baker's screenplay, co-written with Chris Bergoch, is not pressured by conventionality allowing us to explore these characters more freely; it feels like we may be living next door to them, presented with so much realism. All the characters populating the motel are all individuals, as well as representatives of the bigger issue spread across America and the world.
We were all Moonee once and The Florida Project captures that playfulness and youthful energy perfect. It illustrates the joy of childhood in a truly touching, moving and note-perfect way, resisting the need to tie itself to forced narrative development. In response to that, Baker's direction is incredibly taut and absorbing for the most part. Tightly focused on Moonee to elicit heavy emotion, or playfully swirling around her during adventures with her friends to show her care-free, spirited attitude, the film's various, clever techniques are evident without ever becoming pretentious. It feels intimate and personal to this one motel and all its occupants, encapsulating life around the motel in a thoroughly detailed and profound way. Restrained in scale but wide in scope, Baker's direction elevates The Florida Project to impressive, gorgeous heights.
All of this is stunningly enriched by some of the finest cinematography the year - nay, decade - has seen (watch out Dunkirk, Blade Runner 2049, we've a new contender in town). Alexis Zabe's perfectly-caught cotton candy skies and the colourful houses, eye-popping street art and glorious Florida sunshine make for a visually-captivating, expertly-coloured film that is empowered to thrive and dazzle at his masterful hands. It never becomes ostentatious or artificial, and avoids overwhelming the audience and distracting them from the characters. Complete with a timeless sheen, The Florida Project is a dead-cert for a Best Cinematography nomination come award season.
More so than most though, The Florida Project relies on it cast to pull it through. Without a concrete story and prominent set pieces, you need to be reeled in by the characters and the actors that bring them to life. In Brooklynn Prince, they have found a star. Talented beyond her years and more skilled than her limited experience would imply, she carries the weight of the film on her shoulders; while many would shudder at the thought of an inexperienced pre-teen anchoring their film, Prince shows it can be done, passing the test with dazzling, flying colours. She is able to portray a wide range of emotions, energetic and enthusiastic and with an unshakeable likability. Very easily, Moonee could become a bratty child you actively root against - but Prince has the talent to charm and delight. If this is any indication, she has a tremendous career ahead of her.
Bria Vinaite is a new find and is equally as impressive. While we run into a few issues with the character's journey (more on that later), Vinaite depicts a bad mother struggling against a world seemingly against her in a sophisticated way. She is an unpredictable, volatile and (at times) detestable person - but Vinaite possesses a conviction and confidence and you genuinely believe she cares about her child. She does wrong, but most of the times, means right, as ill-advised as she is. Like Prince, Vinaite is in for a solid career on the back of this and I can't wait to see her shine. The two sell their relationship fantastically well, crafting a believable dynamic.
Williem Defoe is the more established cast member, and the circling discussion of a Best Supporting Actor nod is entirely justified. With an arguably more subtle turn as Bobby, the motel manager, Defoe conveys a substantial amount of the film's underlying subtext: when he scares off a paedophile, he emits the impression that this is simply part of life at the motel, defending the children that often terrorise him, with a genuine concern for their welfare. Defoe carries an air of compassion, becoming the father figure - especially for Moonee - than many of the single-parent children experience. It's not the loudest or boldest performance and the fear is it will pass many people by, but Defoe deserves recognition for his accomplished portrayal as Bobby.
Where The Florida Project squanders some of its potential though is during the final sequence. While the message and idea of the kids running off to Disneyland is powerful and effective in theory, the execution feels odd. We witness a distinct change in directorial style and visual, tone and pace, provoking a jarring, disorientating shift that occurs at an inappropriate time - by the time you have acclimatised to the switch, the credits are rolling. It takes you out of the moment a little, ending the piece on a slightly soured note.
The most crucial stumbling block occurs through the character of Halley. During the final third, the script turns her into somewhat of a monster: after failing to chastise her child and frequently neglecting her, she physically steals and attacks innocent people. It becomes a sign of the scriptwriter's temptation to heightens the stakes but they push it too far to be redeemed during the finale. It doesn't want to villainies her - wanting to depict her as a loose-cannon, lost in the system - but her actions make it too difficult not to experience some resentment towards her by the end. It is no reflection of Vinaite's skilled performance, existing in the script's final third and attempt at dramatising the finale.
Supposedly, when The Florida Project made its UK debut as part of Odeon's Screen Unseen, there were a number of walkouts. Some may find the 'no story, just life' tale directionless and aimless - but for those appreciating unconventionality, The Florida Project is a film of real beauty, grit and realism. Poverty in the shadows of Disney, a symbol of euphoria and privilege, Baker's feature-length uncovers some timely, appropriate themes with a raw depiction of lower-class America. It is bold, striking and - at times - magical, illustrating freedom and deprivation in an enlightening, insightful way. The Florida Projects does the almost-impossible - it transports you back in time, to your own childhood, with the free-spirited joy of a seven year-old exploring the world with wide-eyed awe.
Summary
: Sean Baker's The Florida Project is a bold, magical and visually astounding 'no story, just life' feature-length that exposes some harsh American truths, while facilitating the birth of two stars, the continued success of another and furthering a promising director's career.