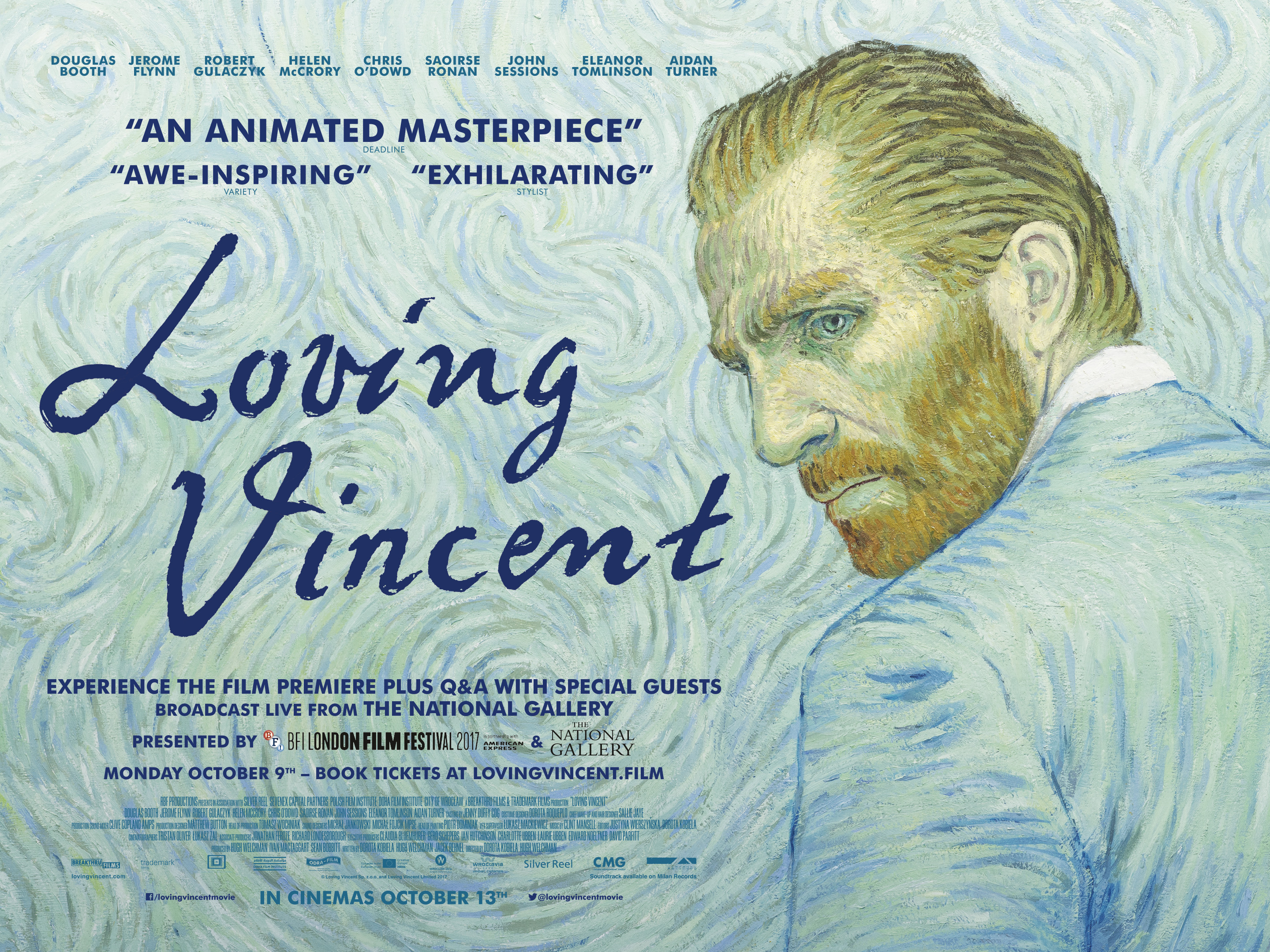 Published on Film Inquiry
.
Loving Vincent is an astonishing work of art. Or rather,
works
of art. Around 115 talented artists are responsible for individually hand-painting the 65,000 frames that make up the 91 minute feature-length oozing with creativity and passion. Crafted entirely from oil paints on canvas, the same technique used by Vincent Van Gogh - the film's muse and centre - the British-Polish co-production is the world's first fully-painted feature-length and a stunning, poignant and tender artistic triumph.
Loving Vincent begins one year after the death of the great painter, Vincent Van Gough, and follows Armand Roulin's attempt to deliver a letter, written by Vincent, to his brother, Theo Van Gough. Along the way, Roulin meets people who were around Vincent during his final days and starts to question why Vincent would would take his own life after making a breakthrough with his mental health - or whether it was all a cover-up for murder.
Loving Vincent is a marvellous piece of art that carefully prevents turning its uniqueness into a gimmick, as many feared it would. It is quite fair to say that every frame is a painting, because they quite literally are, creating the most visually jaw-dropping film of the year by a country mile. While adapting to this new style of 'animation' may be a tricky thing for some, the audience are slowly eased in to the distinctive style by a confident and passionate pair of directors; Dorota Kobiela and Hugh Welchman's seven-years-in-the-making effort clocks in at just a shade over 90 minutes, and manages to cram in almost every emotion under the sun in that timespan - heartbreak, anger, comfort, resilience and spirit bubble under the surface as the Starry Night swirls and the Cafe Terrace sparkles with life. It is an undeniable masterpiece. Their labour of love is careful not to place all of its cards on its jaw-dropping visuals, peppering its script with some heady, potent theme work.
As well as the strong themes spliced into the script, Loving Vincent's narrative more than serves its purpose, delivering an intriguing mystery crime drama mash-up. It explores the final days of the gone-before-his-years artist, the people he was surrounded with at the end and his volatile mental state that led to his early demise. It refuses to dish out blame to those who wronged him and it never lionises Vincent, presenting him as a misunderstood human who made his mark on the world after his time. It considers the good and bad within us all, the pressures we place ourselves under and the value of our freedom and artistic license, incorporating these narrative flourishes stunningly.
A talented cast breathe even more life into Loving Vincent with some excellent voice performances. While it may take a few moments to acclimatise to some of the accents, which feel a tad out of place at times, they are generally impressive and help provide further emotion and weight to the story. Douglas Booth is a magnetic lead, searching for solace as he commences his journey to appease the task at hand; Eleanor Tomlinson provides a stunning, stirring turn brimming with warmth and energy; while Helen McCrory is strong as a domineering, matriarch figure, stern and stone-faced but eventually warming to Roulin. Outside these stand out performance, a number of talented populate the piece: Saoirse Ronan, Jerome Flynn Chris O'Dowd and Aidan Turner all deliver substantial supporting performances, enlivening these character effectively.
Clint Mansell's gorgeous soundtrack truly enhances the emotion embedded within the script, crafting a rousing selection of tracks that enriches the film perfectly. Creating a lavish spectacle both visually and sonically, it is subtle enough to avoid distracting from the main narrative but prolific enough to be fully appreciated and recognised by the audience. It may go down as one of the strongest soundtracks of the year, suitably tender and captivating without ever overpowering.
Plenty to love but not without its flaws, Loving Vincent suffers from a reliance on its formula. It is structured to fall in and out of timelines, to uncover more of Van Gough's final days - but it means momentum is never sustained and the stop-start rhythm prevents the film from becoming its greatest self. Furthermore, the film requires more time to breathe: while 91 minutes is an appropriate length, a tightening in other areas could provide the film with an extra few minutes to streamline its story a little more cleanly.
Loving Vincent is a profound, unique and stunning affair, without a shadow of a doubt. A few jolts in the road aside, the gorgeously-rendered rolling landscapes, artistic boldness, touching story and fantastic cast certify the picture as one of the greatest cinematic experiences of the year. Its uniqueness never becomes a gimmick and the rich visuals are a testament to the skill of the artists whose labour of love and dedication to their craft is showcased for the world to see - and I really hope the world sees it. Loving Vincent is a jaw-dropping feat, every frame quite literally a painting, and a stunning portrait of humanity that will be held up for decades to come.
Summary
: Loving Vincent is a stunning, tender and committed artistic triumph. While not without its flaw, it is a phenomenal technical accomplishment, elevated to dazzling heights by a stunning cast, gorgeous score and touching story that unleashes the artist inside us all.