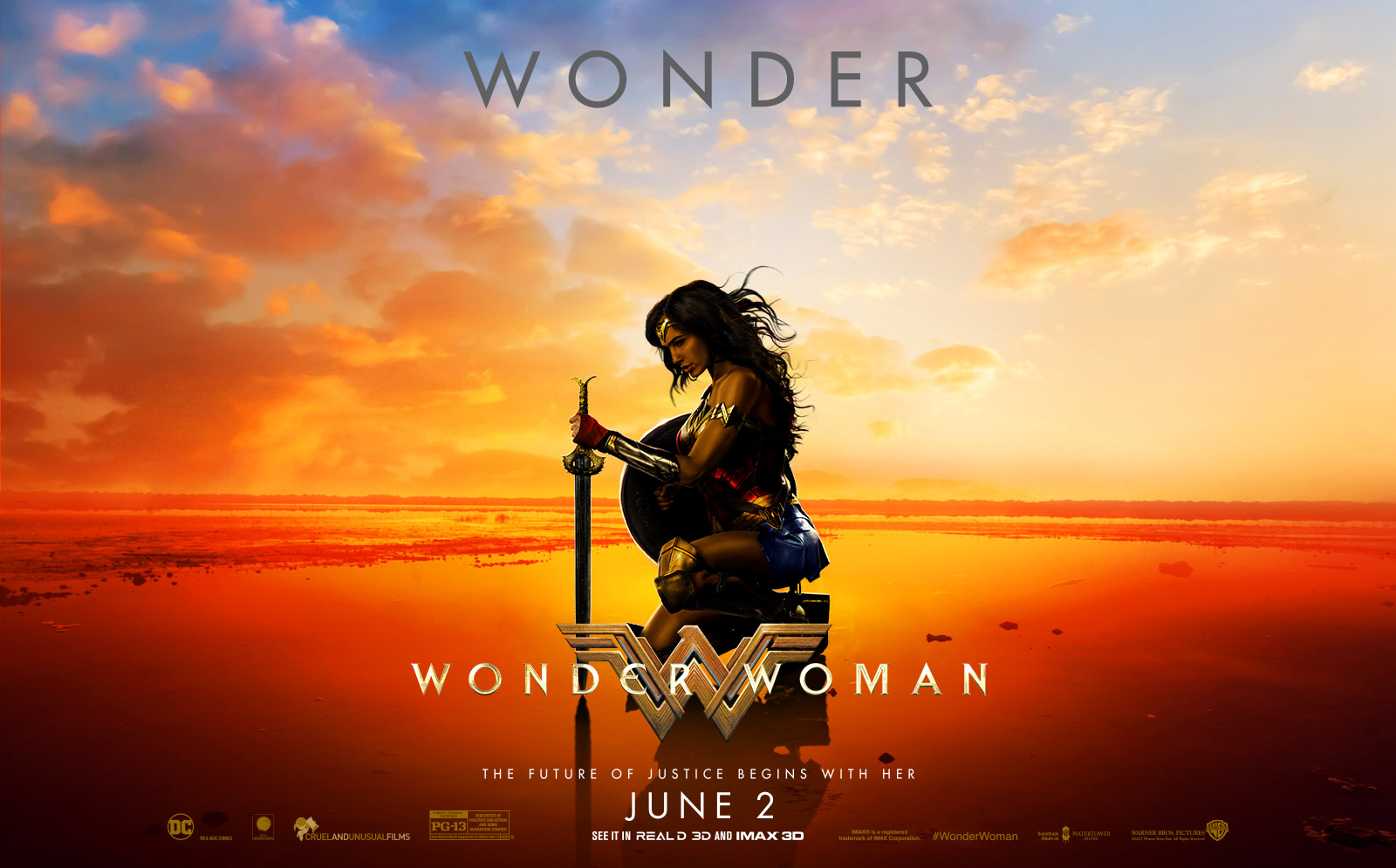 Wonder Woman has the weight of the (DC) universe on its shoulders. After three misfires, each to varying disastrous degrees, their Cinematic Universe has one last chance to carve out a success and win audiences over in time for Justice League, the upcoming team-up film arriving this November. Man of Steel,
Batman vs Superman: Dawn of Justice
and
Suicide Squad
look to Wonder Woman for salvation and, for the first time in the DCEU's history, has received overwhelming positive reviews from both audiences and critics. Is this a case of too little, too late or can Gal Gadot and Patty Jenkin's film, which is the first ever female-led and female-directed superhero film ever, save the day?
Diana (Gadot), a princess of the Amazons, is trained from a young age to be a unconquerable warrior against a threat they hope they'll never see. Raised in a sheltered paradise that protect the women that reside there from the wrath of Ares, the fallout from a World War I battle finds its way into their haven and introduces them to the conflicts of the outside world. Diana, after saving American pilot Steve Trevor (Chris Pine), leaves the safety of her own home in an attempt to stop the threat and fight alongside man in the devastating war. It is here that Diana begins to learn of her full powers and her true destiny as Wonder Woman. Thankfully, Wonder Woman is largely unconnected from the three previous films in the DCEU, crafting an origin story mainly unshackled from conventions - ultimately (and by default) producing the greatest film of the DC Extended Universe to date.
Despite my initial concern, fuelled by how underwhelming her appearance in Dawn of Justice ultimately was, Gal Gadot
is
Wonder Woman, winning you over from the very start and superbly embodying everything Wonder Woman is and represents. She is compelling and powerful in the title role, grasping the physical action scenes and comedic moments perfectly; she may not be as strong with the emotive moments but she is effective enough in carrying them through, highlighting a genuine naivety in her understanding of humanity and her natural disposition. My interest in Justice League now rests solely in Wonder Woman's involvement - and that predominantly simmers down to Gadot's star turn here and that is quite compliment to pay. While Diana is firmly the lead, the rest of the cast is packed out with satisfying supporting players; Chris Pine is rather terrific as Steve Trevor, playing a charming and endearing spy who rarely feels intimidated by the strength of Diana - a joy to see; Etta Candy, played by the hilarious Lucy Davis, nails the comedic timing and the petition for her spin-off begins with me. Robin Wright and Connie Nielsen, Amazon princesses, both help demonstrate a strength and resilience that wonderfully assert the tone in the film's earlier sequences - I hope to see more of them soon.
Patty Jenkins, shockingly the first female director for a superhero tentpole picture, confidently takes the reigns of the first live-action Wonder Woman film with impressive results. Incredibly versatile, Jenkins has a knack for highlighting the beauty where needed (with some deliciously vibrant shots on the Island in act one) and the brutality when required (bringing to life one of the most satisfying moments, with Diana climbing defiantly on to the battlefield and unleashing her might). Visually, this is the most pleasing DC film to date and Jenkins proclaims her talent through chameleon-like attention to detail and ability to adapt to the various set pieces the film presents us with. Allan Heinberg's screenplay, based on the comic from William Moulton Marston, is well-written and resonant, even with a cluttered final act that does not iron out everything as clearly as hoped, with some slightly uneven pacing issues. It mainly excels because of the smart inclusion of its profound set of themes; feminism is understandably front and centre but it never overwhelms, incorporating it in a smart and thoughtful way that allows the film to standout for all the right reasons, rising above the competition in more ways than one. Smart and sharp, the themes vary in subtlety but they are greatly appreciated, stimulating and well-executed, meaning there is something in this for everyone to admire.
Wonder Woman's production oozes a sophistication and fun, balancing both rather expertly. The costumes are meticulous and glorious, establishing the era and allowing Diane to shine without ever feeling gratuitous in nature; her main combat outfit is genuinely stunning in design and unlike anything seen before. Even when the CGI lets it down (more on that later...), the fight scenes are well-executed and nicely choreographed, avoiding ever feeling clunky or overwhelming, with a slickness with each. Even the chaotic battlefield moment is never overstuffed, placing an intelligible focus on Diana. Whoever scouted the location, amplified by Matthew Jensen's cinematography needs to book my next holiday and in Jenkins' hands looks like a picture-perfect paradise - I just wish we got to explore more of it! Rupert Gregson-Williams composes a terrific score, capturing the appropriate tone for each moment and excellently building up the excitement and intensity when required; the Wonder Woman's Wrath moment, in particular, is instantly iconic and memorable.
While Wonder Woman succeeds on so many levels, it is certainly not withouts its flaws. As with most superhero pictures, a weak villain threatens to undo the hard work placed in the rest of the writing, seemingly appearing from nowhere to accelerate the film to its grand finale. Although played effectively by [redacted], he/she is underwhelming and underdeveloped, ultimately throwing the villain on the stockpile of 'poor superhero characters' made up almost entirely by the baddies. Disappointing further is the poorly rendered CGI, for which there is no excuse. It falls into the Dawn of Justice trap on occasions, generating a whirlwind of CGI that almost engenders a tonal shutdown, particularly in the effect-driven finale saved only by a powerful monologue from WW herself. Act three, in general, needs tightening and trimming down a little. Even the acrobatic movements of the Amazon princesses in act one leaves a lot to be desired and is continually the most glaring flaw. Some may appreciate it but the romance sub-plot felt slightly shoehorned in and more formulaic at times than I would like. That said, Gadot and Pine are as terrific together on screen as they are separate, conjuring a wonderful chemistry that, while disappointing to begin with, coalesce into something far more powerful eventually.
In comparison to Dawn of Justice in particular, Wonder Woman is an absolute masterpiece. In its own right, it is pretty damn good too. It's not perfect by any means but represents a step in the right direction from the DCEU; it is throughly entertaining, empowering and profound, well-acted by Pine and (especially) Gadot, bolstered by skilful direction from Ms Jenkins. While some plot strands are not tied up as definitively as one would have liked, with some genuinely woeful CGI at times, Wonder Woman is one of the strongest blockbusters of the year so far, reminiscent of one of the MCU's best (The First Avenger, of which WW lovingly borrows a few shades). It lodges itself as the DC's best film since The Dark Knight and continue 2017's rather sturdy, abundant year for superheroes - particularly after 2016's terrible crop. Wonder Woman alone has caused a pique in my interest for Justice League and places the franchise on the right track by giving Gal Gadot an origin story away from the dark shadows of what proceeded it. It gives us some of the most inspiring and thrilling superhero scenes of the year - both Diana's monologue at the end of the finale and when she climbs, defiantly, on to the battlefield - cementing itself as a worthy blockbuster this summer season for you to seek out. Beautiful then brutal, smart and sharp and featuring some of the most beautiful production design (and posters!) of the year; Wonder Woman - I salute you.
Summary
: Wonder Woman is an entertaining, profound, beautiful and largely successful superhero picture that alleviates the growing concerns that the DCEU is beyond saving. Strength and power define the picture and Gal Gadot gives a terrific performance in the titular role, directed tremendously by Patty Jenkins. Wonder Woman, I salute you.