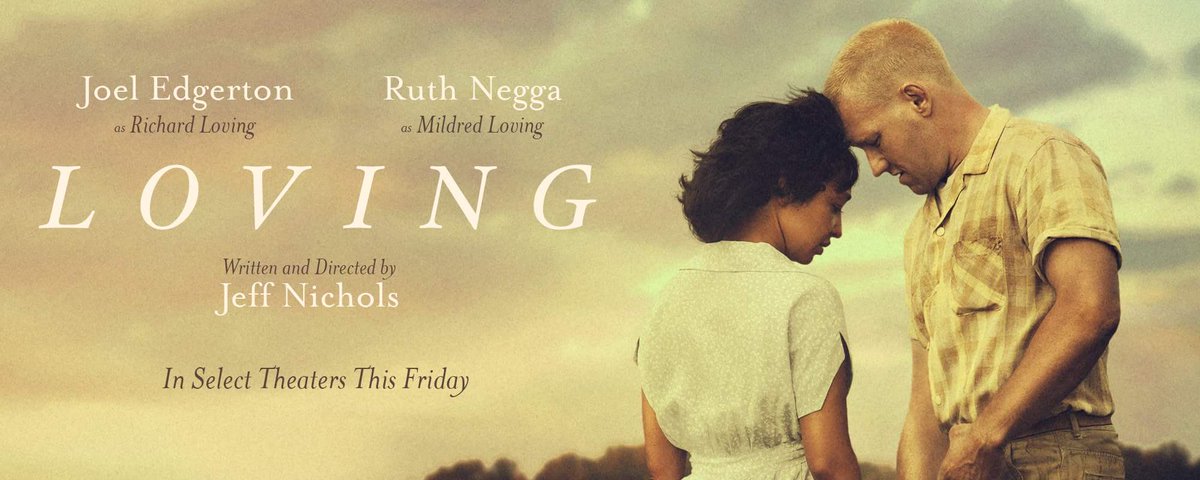 Loving is a film of complete gentleness and overwhelming stillness. The Jeff Nichols-directed historical drama, centering on the lives of Richard and Mildred Loving, is the definition of a slow-burner, unfurling at a pace that will be undeniable testing to some casual viewers. It thoughtfully and sensitively goes about delivering the details of the 1967 US Supreme Court Loving vs. Virginia case that disregards the loud, dramatic and stirring moments usually typical of the genre to focus almost unreservedly on the personal, intimate side of the tale; this decision is both the film's greatest strength and most glaring weakness.
Richard Loving (Joel Edgerton), a white construction worker, falls in love with a local black woman, Mildred Jeter (Ruth Negga). When she discovers that she is pregnant, they decide to marry, but are forced to wed outside the state of Virginia due to the anti-miscegenation laws that permits interracial marriage. Shortly after, when home in Virginia, sheriffs raid their home, invalidate the marriage certificate and arrest them. After multiple threats and warnings, they hope to dismantle the law that permits their love by taking the state to the Supreme Court. Based on the real life story previously seen in the documentary The Loving Story by Nancy Buirski, Jeff Nichols now takes on the screenplay and directorial reigns of the Lovings and their landmark case that changed the constitution of America.
Despite taking on such a historical moment in American history, it's rather staggering that the film explores this in such an understated, often compassionate, manner. Loving's timely themes shine brightly here, with the obvious consideration of racism, discrimination and perseverance at the forefront of this picture, crafting some truly stirring moments that unfortunately feel very relevant in the current fraught political climate we live in. So often in Loving the audience is tricked into believing their love could actually stumble because of the mounting pressure they face at the very eye of the storm, but their unconditional commitment to each other is absolutely cemented in audience's hearts by the times the credits roll during one of the film's most emotional stretches. It is because of the timely narrative and themes, solid work from Nichols behind the camera and the understanding that indulging in genre conventions could dissolve the tenderness of this story that allows Loving to work effectively.
All of this is stunningly bolstered by the two central performance, with both Edgerton and Negga ensuring we are fully absorbed and committed to these characters when the pacing and structure falters. Edgerton depicts a man so determined to do right by his wife but evidently troubled by concerns that his presence in her life is doing more harm than good, delivering an understated and contemplative realisation of Richard Loving with a continual look of earnest. Ruth Negga, who caused surprise when her nomination for Best Actress at the Oscars was announced earlier this month, conveys so much emotion in her dialogue-limited turn as Mildred, wonderfully encompassing the character's strength and warmth, often with only a glance, a few words or her affectionate action - you feel so absorbed in her performance and, despite my initial scepticism, she more than earns her place in contention at the Academy Awards later this month. Both actors understand the importance of delicacy and softness of placing these lovers as the undisputed focus about a story about a feeling so fundamental as love. They are sensational but never sensationalised; often a tough line to balance.


As mentioned, Loving is restrained to a fault. It's an undeniably tender portrait of marriage but beyond that, it never really connects outside of its lead performances. It only ever scratches the surface of the monumental story it tells, feeling almost like a missed opportunity in that it never truly considers the bigger picture and the huge stakes it holds for more than the Lovings. This is a 123 minute film that feels very sparse when looked at in retrospect; yes, a lot of this time is dedicated to bringing these characters to life and you can absolutely admire the film because of the intimacy and privacy afforded to this central elements, but you cannot help but wish for more in the grand scheme. It is touching and kind at all times but rarely delivers a gut-punch of emotion having scaled down on the larger, more consequential moments for something more narratively-restricting. It's an ambivalent position to find yourself in with this film - appreciating the intimacy it portrays but wishing it went deeper and further in its scale - but Loving does feel underwhelming every now and then because it struggles to engage at time, especially considering the landmark event it presents.
Loving is a timely tale that deserves to be told and is done in the softest of ways. Jeff Nichols' strikingly private picture paints a stunning portrait of unconditional love in its purest form, despite the hostile environment it must try and survive in. Joel Edgerton and Ruth Negga deliver two stunningly restricted and subtle performances that anchor the film during its more trying times. It's an admirable piece of film-making, one reminiscent of
Amma Asante's A United Kingdom
from late last year and would act as a terrific double-bill for those who manage to get a chance to experience them. Or try it with
Denial
, an equally powerful story about real life events that we are still evidently learning from. Attentive towards the sensitivity of this milestone event, as well as the characters at its very heart, Loving may not be the most well-rounded film of the year but it is an important one.
(7.5/10)
Summary
: Loving is a sensitive and understated telling of a story that deserves to be told, bolstered by two fantastic performance from Negga and Edgerton that ensure the themes and characters are at the very heart of the film.
Highlight
: The scene in which Richard falls asleep in Mildred's lap is so stunning and natural that it can't help but leave you feeling emotional for these two lovers.