2015 has been an interesting year in music. It wasn't until the bustling Q4 that it really began to pick up, but they're instances of brilliance scattered throughout the year. Here, I'll round up my five favourite album releases of the year, in reverse order, and exactly why they made the list.
Full reviews for some can be found through the titles hyperlink.
5. Hailee Steinfeld - Haiz EP
This one feels like a little bit of a cheat. What with it being only an EP release featuring 4 tracks, it's not exactly an album; but those four tracks are so, so good that I'm going to put it on the list anyway. Seinfeld poises so much potential, packing it all into these four tracks that makes the prospect of a full LP very exciting. Feeling grown up beyond her years, each track still manages to seeps fun and empowerment - from lead single 'Love Myself' to 'Hell No's and Headphones' - all are as infectious as the last. Hopefully more personality will come through with the album, but for now, this has enough potential to hold me over.
4. Demi Lovato - Confident
Demi Lovato is met to achieve the height of success that she so richly deserves, and although Confident - the former Disney singer's fifth studio album - isn't her strongest to date, it is a solid offering with a number of gems inside. Left slightly in the shadow of previously LP Demi, this release feels like more of an experiment of genres that works for the majority. But despite dipping her toes into various other forms, she once again shines during the more vulnerable and fragile moments; both 'Stone Cold' and 'Father' act as a showcase for her genuinely strong vocals to soar, as she pours her emotional demons into the music with a touching and moving culmination



Lana Del Rey's Honeymoon isn't quite the Born To Die/Ultraviolence hybrid we were originally expecting, but the outcome is a gloomy and sombre album in all the right ways. Polished and featuring Del Rey's instantly recognisable smoky vocals and tones, she seems to be content with who she has become more than ever. 'The Blackest Day', 'Swan Song' and '24' are rousing and stirring tracks that wouldn't be out of place on a Bond soundtrack, whilst 'High By The Beach' is the closest we come to reliving her Born To Die roots and 'Salavtore' is a single waiting to happen. While her first major studio album release remains my favourite, I'm completely content with Del Rey's Honeymoon and I will be intrigued to see where her muse takes her next.
DNA was a strong debut and Salute was a sophisticated follow up, so all rested on the shoulders of Get Weird – Little Mix's delayed third offering – to stand up to the astronomic standards they had already set themselves. Thankfully, it does. It's a collection absolutely oozing with fun, individuality and independence, bursting with diversity and acting as a showcase for their talents as both performers and vocalists, and songwriters. 'Black Magic', 'Weird People' and 'Love Me Like You' are insanely infectious and exciting, while 'Love Me Or Leave Me' and both parts of 'Secret Love Song' offer the album's heartfelt and tender moments that shine. A worthy follow-up and my favourite album from Little Mix is only between by one…
1. Marina & The Diamonds - FROOT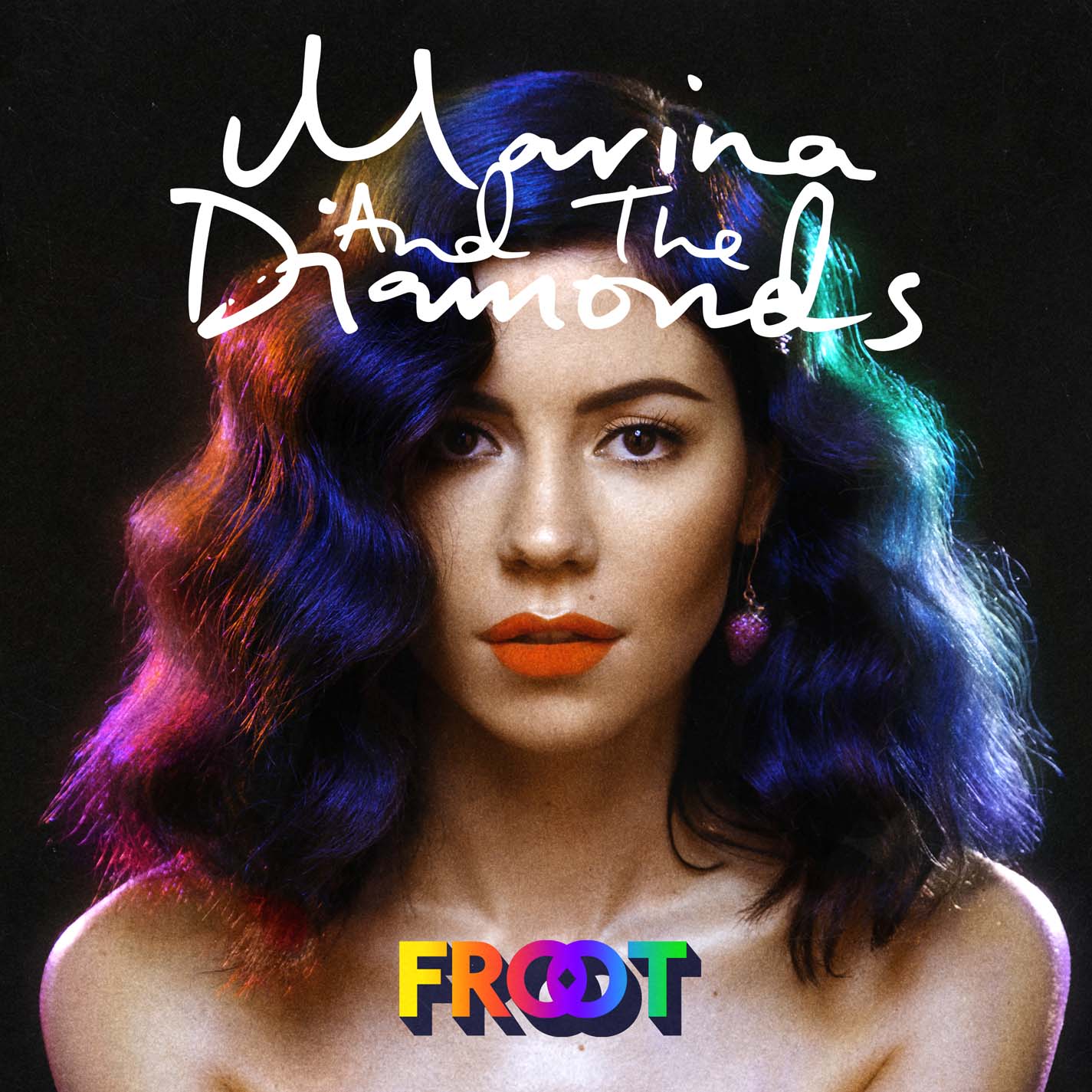 At its weakest, the pop landscape is filled with mindless co-writes, a barrage of opinionated producers wanting their two cents to count and a conveyer-belt of formulas making for an impersonal experience and albums void of life. When you don't have this, you have Marina & The Diamonds' third studio album, FROOT. The whole project was a collaborative effort between two people – Diamandis herself, who had written every song individually – and David Kosten, who helped her produce the entire album. That in itself is an absolute rarity, but for the album and collection to sound this strong at the same time, is an unbelievable fate and secures the release as my favourite from her discography, and favourite album of 2015.
An abundance of different emotions can be felt from the opening piano in 'Happy' to the closing notes of 'Immortal', which Diamandis manages to convey in each and every song. 'Savages' is Marina at her most candid, brutual and honest, offering a societal commentary on the issues this generation faces, while 'Weeds' is a metaphorical love song in a way we haven't heard one before. 'I'm A Ruin' is a heartbreak song from an unheard perspective - the heartbreaker - and 'Blue' manages to take the melancholy spirits in its lyrics and transform it into quite the upbeat pop perfection we shouldn't really be expecting but wholly love. Every single track on the album can stand on its own, a unfamiliar achievement for an album to do, but make for an absolutely stellar experience. The supporting 'Neon Nature Tour' in November helped me fall in love with it all over again, in completely different ways. FROOT truly is the perfect album.