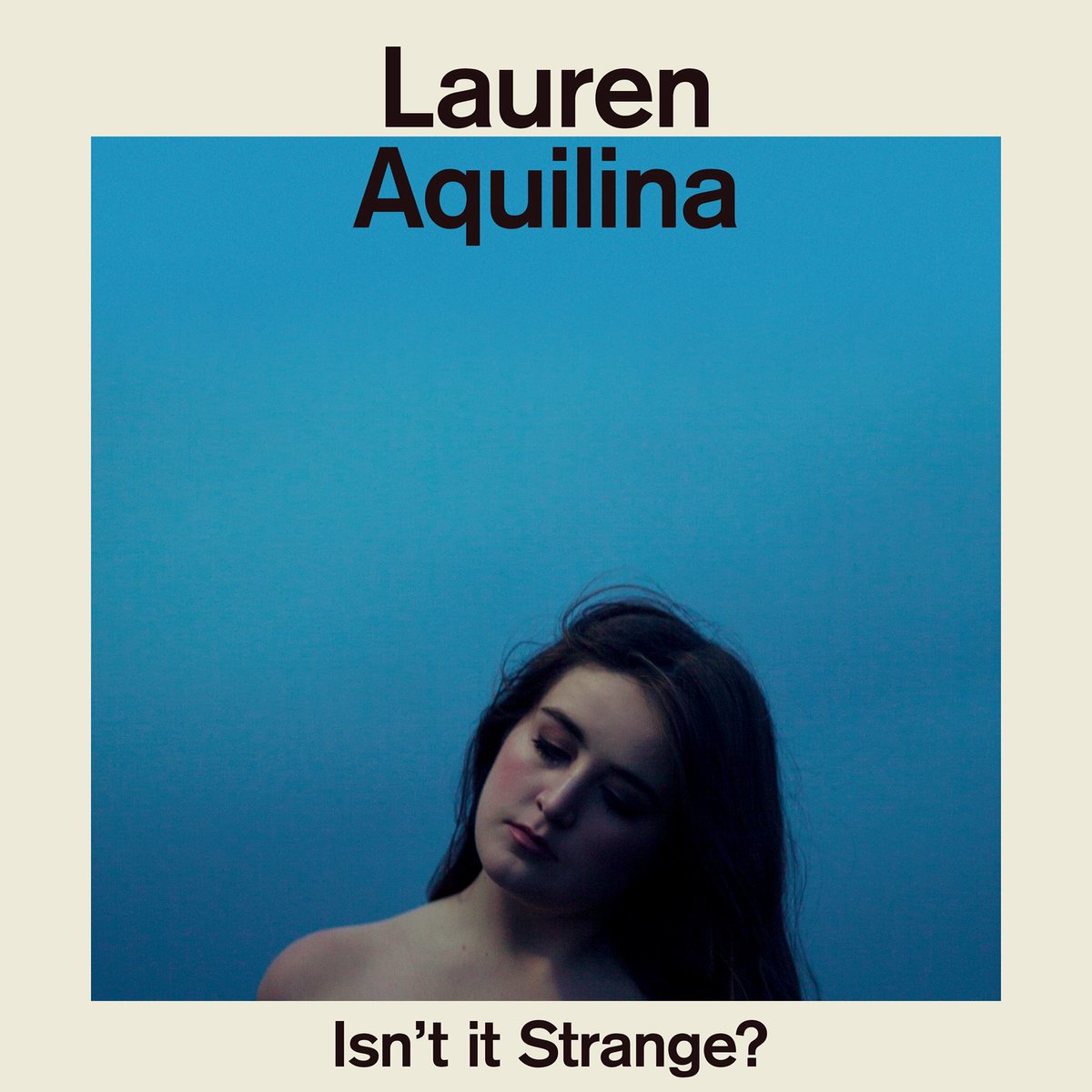 Lauren Aquilina has slowly been making a name for herself since independently crafting and releasing her self-written EP trilogy, encompassing Fools, Sinners and Liars, shortly after which she was signed to Island Records to begin work on a debut album. Since the final trilogy instalment, Liars, in March of 2014, new music has slowly been drip fed, including the Ocean EP, teasing the upcoming album, and a prestigious slot advertising Downtown Abbey's final season advert with a stunning rendition of Time To Say Goodbye. The time now has finally arrived for Aquilina to release her debut collection, Isn't It Strange?.
Best described as indie pop, Aquilina's 'Isn't It Strange?' is pristine pop crafted to the highest degree, with heartbreakingly honest lyrics, rising and inspiring atmospheres and a beautiful voice that is never complicated by excessive production or effects. Despite the emotion behind the lyrics, each of the ten songs that comprise her first studio album feels unique and identifiable, standing out instead of merging into the next, whilst still managing to fit together in the cohesive collection. Below, I have ranked the tracks and written a little on each and encourage you to let me know your favourites too.
Way Too Good
Conjuring Aquilina's beautiful lyrics in a full pop bop, Way Too Good is one of the most relatable tracks I have ever heard and the way she captures such a recognisable emotion, yet have it sound so upbeat, is very special. Easily one of the best tracks of her career, this deserves to be heard live to experience the wonderful 'sing along' section at the end.
Midnight Mouths
Once again, another personal experience has been documented in a way that everybody can relate to, no matter their circumstances, whether it be toward someone they know or of oneself. It's brilliantly clever and produced in a way that combines a number of different sounds within one track, becoming one of the more 'producer' tracks while never losing its personality.
Kicks
Outside the Ocean EP, this was lifted as the first 'single' from the album and it feels as exciting and inspiring now as it did upon its first release earlier this year. You cannot help but sing this song with empowerment and strength to this song, with another uplifting track crafted that feels different to anything else we have heard.
How Would You Like It?
In an album that feels very emotive, How Would You Like It? feels more than that - its raw and natural and honest, so much so that you can hear it in Lauren's voice throughout, particularly towards the end. Once again, it feels relatable even if you haven't experience the exact situation that inspired the song.
Wicked Games
Featuring possibly one of my smartest lyrics I have ever heard, "he said he didn't do commitment/ with tattoos on his skin/ maybe i wasn't worth the pain", Wicked Games features one of the catchiest chorus on the album, standing out for all the correct reasons.
Hurt Any Less
I'm beginning to sound like a broken record throwing the words 'relatable' and 'personal' around, but they are absolutely right for this track too. With a rousing chorus and punchy atmosphere, it leans into the pop genre more than many other songs on the album and I love it all the more for that.
Suddenly Strangers
Despite sounding more experimental than the album's other tracks, Suddenly Strangers still feels quintessentially Aquilina with an uplifting atmosphere despite the emotional content of the track. "I used to say you were my home/ but now the house is empty" is a standout lyric.
Ocean
Ocean lands here only because it has been in our lives for a while now and I'm rushing to hear the new material. It was a brilliant taster for the album and still sounds fresh months after its release (it also is responsible for two of my favourite Aquilina tracks, Out of Our Depths and Low, both of which featured on the EP).
Talking About
It's a beautiful sign that I absolutely love this track, despite ranking so far down the ranking. It reminds of 'teenage love', feeling infatuated with someone to the point where you think of little else, despite your best efforts. Aquiline sounds lovely and its another special one, if not an instantly memorable one.
Fools (Live at RAK Studios)
A true throwback, Fools, the first song we ever heard from Aquilina, is given a stunning live reimagining and while I still absolutely adore this song for its smart lyrics and Lauren's stunning vocals on the track, it simply falls into this position for not being new, although the live touch still makes it an incredible (and emotional, having witnessed her growth) listen.
Isn't It Strange? may just be one of my favourite albums ever and certainly the year's best so far. It is beautifully written, stunningly performed and produced in a manner that puts Aquilina's talent front and centre. It holds a special place in my heart as, having been a fan of Aquilina's since her debut EP, it shows an incredible progression and I am unbelievably happy her talent is being more widely recognised and celebrated.
Lauren Aquilina's Isn't It Strange is out now, with physical copies available on her official store and HMV, on digital retailers such as iTunes, and various streaming services. Please take a moment to support the artist who truly deserves the success.